The Frosted Fox Cake Shop
In business since 2015
We are an artisan cake shop located in historic mt. Airy, philadelphia. We believe wedding cakes should look beautiful and taste delicious. We love to design wedding and specialty cakes. We make everything from scratch and decorate all of our cakes by hand.

The Frosted Fox Cake Shop is one of the wedding cake bakeries in Philadelphia and offers wedding cakes and desserts services.
Wedding Cakes And Desserts Packages and Prices
We are happy to put together a package for you. The exact price depends on several factors such as the date of the event, specific services included, number of hours spent at the event, etc.
Below are some sample packages. Most packages (and pricing) can be customized to fit your needs and budget. You can either book an existing package or click Price a Package to create a custom one.
Wedding Cake Wedding Cakes And Desserts Package
Our wedding cakes typically range between $6-$8 per serving depending on how elaborate the design is and how far the cake will be traveling.
Wedding Advice By The Frosted Fox Cake Shop
The Frosted Fox Cake Shop is a highly regarded Wedding Cakes And Desserts professional. Read published wedding articles below where The Frosted Fox Cake Shop answers top questions about wedding cakes and desserts.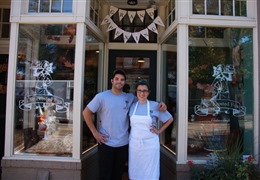 Dreaming of your perfect wedding cake? Jennifer Low will help you get it
October 17, 2018
If the one thing that you know for sure, is that you want your wedding cake to be memorable, then Jennifer Low is the one who will help you achieve it. Here is the interview we recently did to the owner and pastry chef of The Frosted Fox Cake Shop.
More about wedding cakes and desserts
The Frosted Fox Cake Shop Services
Services
Tastings
Setup
Delivery
Free consultation
Desserts
Wedding cakes
3D cakes
Cupcakes
Cookies
Top-Rated Wedding Cake Bakeries