5 tricks to finding your way around a bridal boutique (Updated for 2024)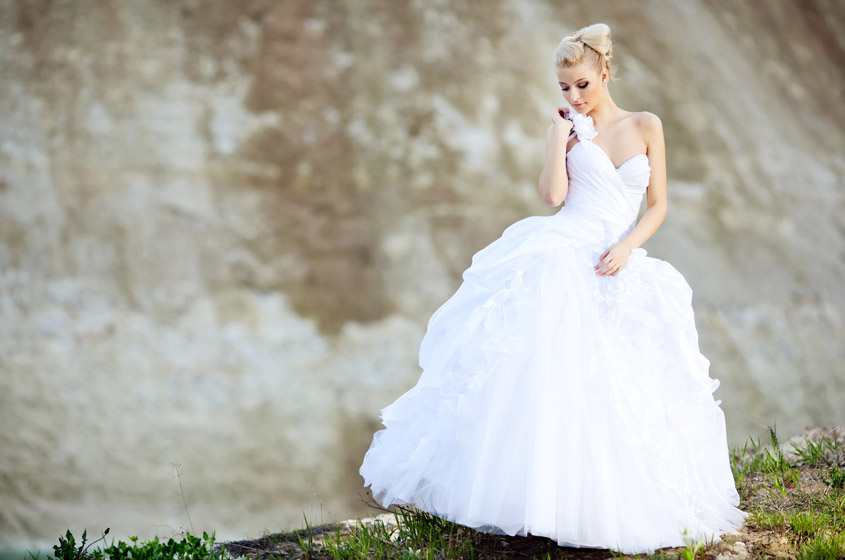 Step 1: Plan out your strategy
The one main thing to remember when choosing a wedding dress is that it's about how the dress looks on you rather than how it looks in a bridal boutique catalog or a mannequin. While it seems trivial, it's surprising how many brides make the mistake of finding their perfect "style" in a magazine, racing to the bridal boutique to find this same or similar type of wedding dress they like so much and trying it on only to be disappointed in how they look.
The next thing that usually goes through their mind is something like "If only I was skinnier / taller / more shapely / etc." No wonder bridal boutique hunting becomes more of a chore rather than the fun experience it's supposed to be! Well, learning from our own experience (as well as a countless number of our friends and a large number of brides here at WeddingVenture.com who recently got married), here are a couple of tips on how to choose your perfect wedding dress and skip on all the frustration.
Step 2: Find your unique wedding dress style
Each body is different, so it only makes sense that the same dress will look very different on different people. Thus, the best way to figure out what type of wedding dress will look best on you is to try as many different types, styles, and colors at a bridal boutique and see which patterns emerge. Instead of going through countless bridal magazines, make a few trips to an actual bridal boutique. Start with the largest bridal boutiques (think David's Bridal vs. small bridal boutique) that carry the largest variety of wedding dresses.
At first, don't be picky. Try every imaginable style and wedding dress and begin the process of elimination. Take notes on what features of a dress look good on you and which ones simply don't. For instance, a "mermaid" style dress might make your hips look big (in which case, scratch that one out) or this same style might make you look shapelier and sexier (in which case, it's a keeper).
At this step, don't pay attention at the price - you are still in the "discovery" phase simply looking for the style of dress that looks best on you. Once you've figured out your unique style, you are 90% done. The next step is to visit bridal boutiques with that particular picture in mind and simply find the wedding dress that would suit your budget.
Step 3: Find the perfect wedding dress
Hunting for your perfect wedding dress will take longer than you expect. Most brides assume it won't take more than 2-3 waves of bridal boutique visits to find their perfect wedding dress. They are greatly underestimating the effort! In a quick poll we took, brides made an average of 9 trips to different bridal boutiques and tried an average of 8-10 dresses at each store. That's 90 different dresses tried on... daunting isn't it?
One thing to remember is not to settle because you think you will never find a wedding dress you will be 100% happy with. After all, you found your perfect man, why can't you also find your perfect dress :)? Remember that it's not just you - unless you are wearing your mother's dress for the wedding, finding your wedding gown may take a few months.
Here is an advice from us at WeddingVenture.com: be patient and take as long as you need. It's worth it, given that your wedding dress (as captured in wedding pictures) will literally be looked at and remembered by generations to come (including your children and grandchildren).
---
PREV ARTICLE
NEXT ARTICLE