Wedding live music
in Seattle
14 Results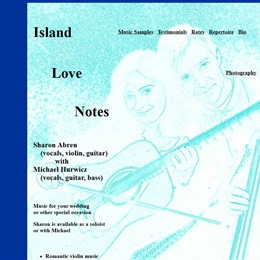 Sharon Abreu: solo soprano and violin. Sharon Abreu and Michael Hurwicz: acoustic duo. Orcas Island and San Juan Islands.
Guitar
Harp
Violin
Male lead vocal
Female lead vocal
Classic MC services
Custom mp3 break music
Ceremony
Reception
Top-Rated Wedding Live Music
Let there by music at your wedding! Live music pumps vital energy into your wedding reception. A wedding band provides your favorite tunes in a very visual and unique way. People will either head to the dance floor or tap their toes to the rhythm. A band elevates your reception to an exciting live performance with your guests as the enthusiastic audience. A live wedding band fills the room with electricity. Our selection of live wedding bands knows how to connect to wedding guests and create an incredibly memorable reception for everyone.

A live wedding band transforms your wedding reception into a unique event. Music is a huge part of any wedding reception, and live music provides a special and unforgettable ambiance. Playing in real time, a live band can remain flexible to individual requests and can perform songs in their own, distinctive way, breathing life and energy into an old favorite. Even people who hate to dance will gleefully stagger onto the dance floor. Those guests that really don't want to dance can have a wonderful time simply enjoying a live performance.

A live band doesn't just perform. They make important announcements and keep the entire event flowing smoothly. Check out our selection of live bands and see how much they can add to your wedding reception.