Wedding photographers
in Hawaii
41 Results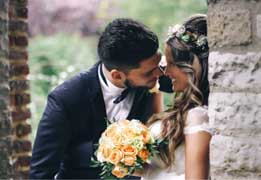 Photography is my life's passion and it brings me so much personal happiness. Each day I am grateful to be able to capture people's life stories through my camera's lens. Because no two weddings are ever the same, I approach each event with a new set of eyes and a passion to discover and capture the magic of the wedding day. As the shutter of my camera clicks to photograph a co...
Travel
Engagement shoot
Wedding portraits
Photo booth
Photojournalism
Traditional
Natural
Digital files
Proofs
Top-Rated Wedding Photographers
Looking for the best wedding photographers in Hawaii? Your wedding photographs are a treasure that will be enjoyed by your friends, children, and grandchildren. Its what memories are made of. Our selection of Hawaii wedding photographers will ensure that you end up with the exact pictures you want. Professional wedding photographers and the best wedding photographers in Hawaii have their own, unique style, so take a look at our professional wedding photographers' portfolios. Will your wedding photos be glamorous, casual, or traditional? Do you want engagement photos? Check out wedding photography packages for the best deal. You want a Hawaii wedding who can capture the essence of your special day. Click on those professional wedding photographers that best capture your dream wedding and find out more about them. Don't settle for photos. Choose a professional wedding photographer who can create a lifetime of memories. There are questions to ask wedding photographers, such as wedding photographer average cost. The photography wedding cost can make up a substantial part of your wedding budget, so you want the best Hawaii wedding photographer.
Local Wedding Photographers